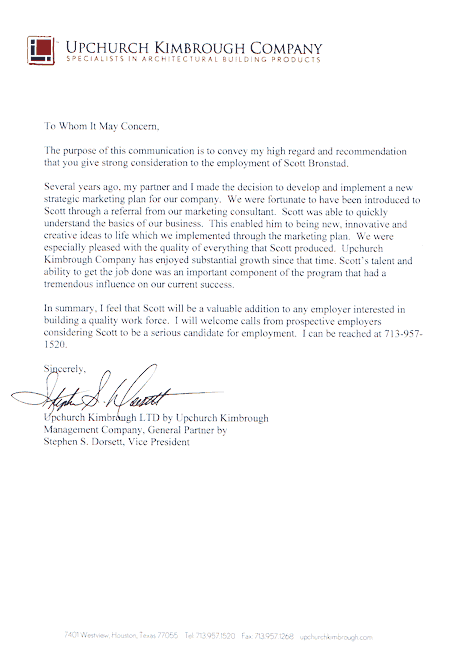 To Whom it May Concern,
The purpose of this communication is to convey my high regard and recommendation that you give strong consideration to the employment of Scott Bronstad.
Several years ago, my partner and I made the decision to develop and implement a new strategic marketing plan for our company. We were fortunate to have been introduced to Scott through a referral from our marketing consultant (Lauren Sonier). Scott was able to quickly understand the basics of our business. This enabled him to [bring] new, innovative and creative ideas to life which we implemented through the marketing plan. We were especially pleased with the quality of everything that Scott produced. Upchurch Kimbrough Company has enjoyed substantial growth since that time. Scott's talent and ability to get the job done was an important component of the program that had a tremendous influence on our current success.
In summary, I feel that Scott would be a valuable addition to any employer interested in building a quality workforce. I will welcome calls from prospective employers considering Scott to be a serious candidate for employment. I can be reached at 713-957-1520.
Sincerely,
Stephen S. Dorsett
Vice President (Retired)
Upchurch Kimbrough LTD